PewDiePie is an internet celebrity known for many things.  He has a YouTube channel, and is a gamer, philanthropist, and a comedian, among other things. He is also known for his Let's Play videos.  He has such a wide following that when he plays games, he boosts their sales.  PewDiePie has had such success as an online personality that he was named one of the world's most 100 influential people in 2016. 
Early Life
PewDiePie was born Felix Arvid Ulf Kjellberg on October 24th, 1989. He was born in Gothenburg, Sweden to his parents Lotta Kristine Johanna and Ulf Christian Kjellberg. He was raised in the town where he was born, and grew up with an older sister named Fanny. Both of his parents worked, and were corporate executives.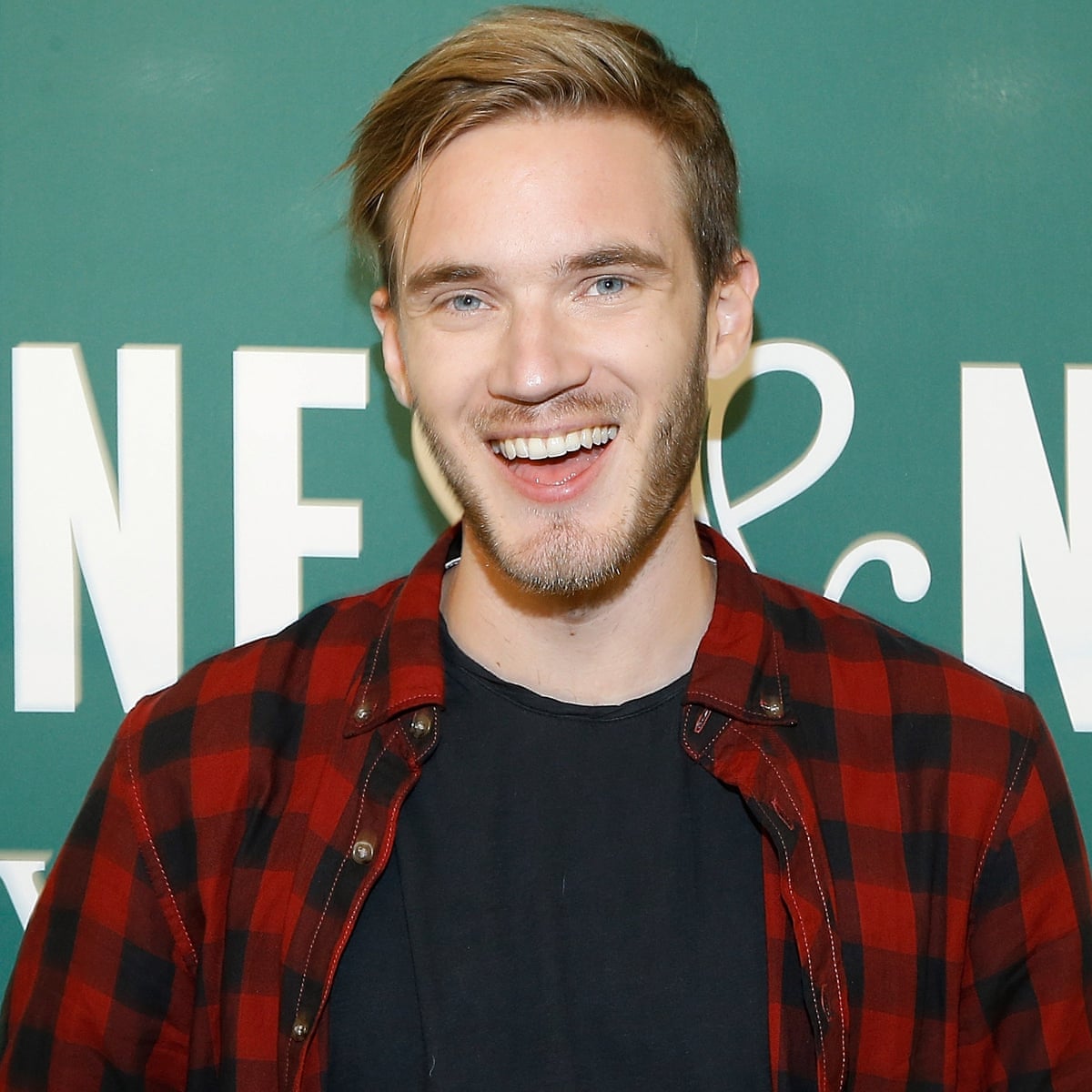 In school, Felix was interested in art, and was very talented with drawing. He especially loved to draw video game characters, particularly Mario and Sonic the Hedgehog. In addition to drawing these characters, he also loved to play their video games on his Super Nintendo system. He began to show more and more interest in video games in high school, even skipping school to play. After high school, he went to Chalmers University of Technology to study industrial economics and technology management, but dropped out in 2011 due to a lack of interest in the field.
Career
Right before dropping out of school, in 2010, Felix began to post Let's Play videos on YouTube under the name PewDiePie. He began with commentary and play through of horror games, and that is how he started to become popular. Fans were particularly fond of how he spoke to his audience like he was sitting with a friend playing the game. He kept their interest with his goofy comments and energetic game play, coming across as genuine ad authentic in his online personality. As he gained popularity and subscribers, PewDiePie added vlogs, comedy shorts, and music videos to his content to expand his range and appeal to more fans.
PewDiePie's YouTube Channel grew in popularity from its creation in 2010.  Over a two year span, he grew exponentially, reaching one million subscribers in July of 2012.  In August of 2013, his channel became the most subscribed to channel on YouTube. Off and on, he held this title until 2019.  Now, he firmly holds the position as the second most subscribed channel on the platform. As of November 2020, his channel has received over 26 billion views total, giving PewDiePie the 19thmost viewed channel on YouTube. 
Public Image
Since his quick rise to popularity, Felix was been recognized time and again as one of the most influential online personalities. He has be talked about in many different places for his digital content creation and the internet culture that he has created. But perhaps the most notable aspect of the image that he has created is his genuine persona. His fans don't feel like fans; they feel like friends. Felix speaks to the camera in a way that is familiar and inviting, and people take note. YouTubers searching for channels to subscribe to choose the comforting and friendly conversation created by PewDiePie over other more scripted channels.
Income
As one of the most popular YouTubers of all time, Felix makes a pretty penny from his channel. In 2016, PewDiePie was named as the highest-earning YouTuber with an annual income of fifteen million dollars. Since then, his profits have dropped slightly, and he is no longer the highest earning channel. However, he still makes many millions a year.
An interesting thing about his income is that it is earned slightly differently than how most YouTubers earn their money. Felix relies completely on external revenue sources to make his money. This is in contrast to the typical YouTube model of ad revenue. Felix has stated in the past that he dislikes the ad revenue model and thinks it is inefficient.
Charity Work
Every year, Kjellberg donates some of his earnings to charity.  He also uses his celebrity and influence to raise money for charities as well. In 2012, during a contest, all money that he won was donated to the World Wildlife Fund.  He has also raised money for St. Jude Children's Research Hospital in the past. 
When Kjellberg reached ten million subscribers, he began a campaign where he encouraged his fans to donate money to a charity called "Charity: Water." Charity: Water is a non-profit that was developed to provide drinking water to people in developing nations. During his campaign, Kjellberg encouraged his fans to donate money in celebration of his ten millions subscribers. Additionally, he donated one dollar for every 500 views of the video that announced his campaign. At the beginning, his goal was to raise $250,000. By the time his campaign was over, he had raised over $440,000. In 2016, he organized another campaign for the same charity where he raised another $152,239 for the cause.
Keeping with his tradition, Kjellberg created another charity drive in 2016 when he reached 25 million subscribers. This drive supported Save the Children, a charity that provides better education, health care, and economic opportunities for children in need. This drive had a stated goal of $250,000, as was his previous goal. He crushed the goal during this drive as well, raising over $630,000 for the charity. These fundraisers and charity drives are only a fraction of the total charity work that he has done over the life of his career.
Video Games
In the height of his popularity, Felix decided to create his own video game. The game, PewDiePie: Legend of the Brofist, was released in September of 2015. It was developed by Outerminds, a Canadian game developer. Almost exactly a year later, the same developer helped Felix create and release another game, PewDiePie's Tuber Simulator.This game was released as a free app, and was the number one downloaded game in the App Store after only a few days. In 2019, two more games were released by Felix: PewDiePie's Pixelings, and Poopdie.